Date/Time
Date(s) - 12/01/2017 - 12/02/2017
8:00 PM - 3:00 AM
Location
GD2
Categories
Power Exchange Weekend Intensive
Friday, December 1st – Saturday, December 2nd, 2017
The entire Power Exchange Weekend Intensive is only $45* per person
* Must either be a current member or purchase a membership.
---
GD2 is excited to host the 2017 International Power Exchange title holders, Kevin and Katie, for a weekend focused on D/s relationships and lifestyles. You don't need to be in a relationship to attend, and anyone interested in power exchange in its many forms, from TPE to 24/7, to D/s to M/s and everything in between, is encouraged to come out.
Join us for D/s focused education, taught by a retired psychologist and his slave of 15 years, a tea party, a meet and greet with the presenters, and two play parties focused on service, submission, and dominance!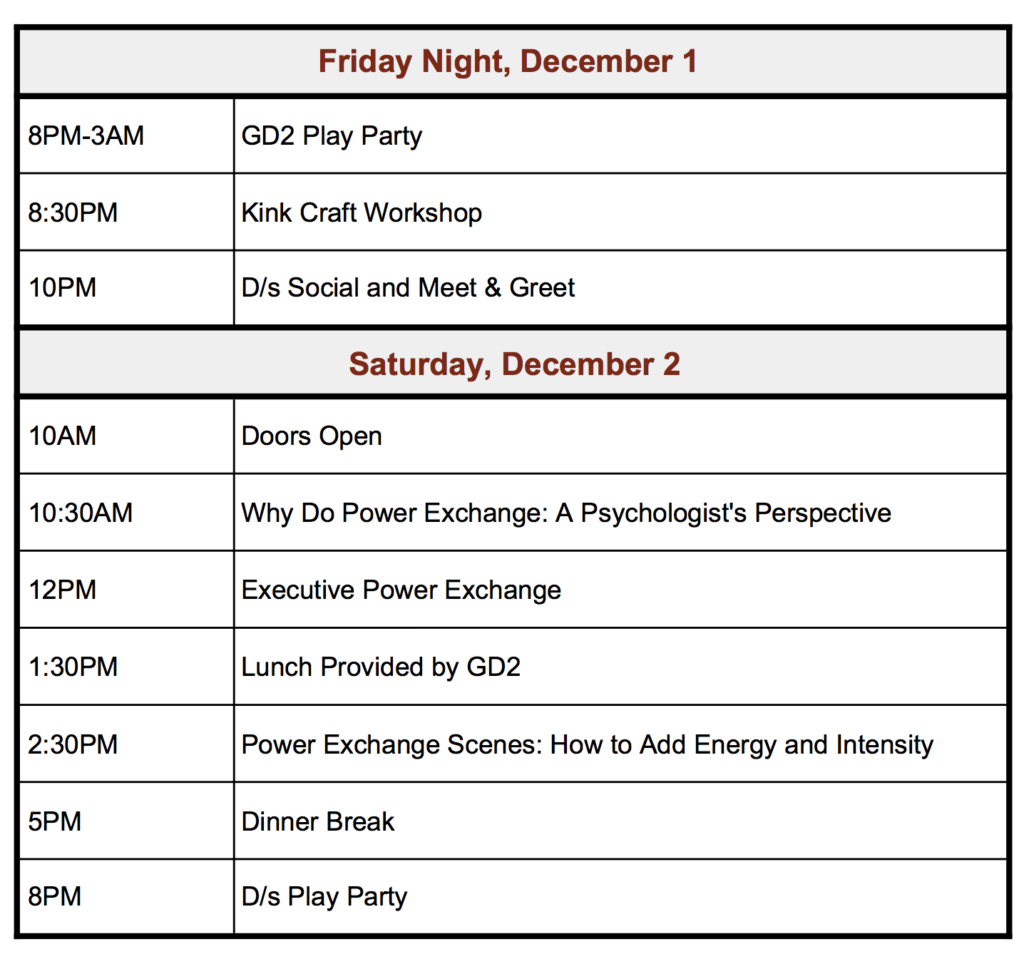 ---
To cover all the legal bases in Chicago, this intensive is open only to GD2 Trial, Regular and Platinum members.
If you are not yet a member of GD2 we've made it easy for you.
A GD2 membership — Trial, Regular, or Platinum — is available in conjunction with this event at a discounted rate.
You can find details about membership on GD2's membership page, but be sure to come back here to sign up for membership in conjunction with the D/s Intensive.
Please note: The last day you can sign up to become a member in time for this intensive is Thursday, November 30, 2017.
In order to submit your registration you may need to allow pop-ups for GD2's website.
---
Friday Events:
GD2 Play Party, 8PM-3AM
Intensive attendees are welcome to join us for one of our infamous member's parties! GD2 has 3 play space of unique, high quality BDSM furniture to explore.
Kink Craft Workshop – D/s Service Prep, 8:30PM
GD2's Kink Craft Workshop is getting in on the D/s Intensive action, and will be decorating cookies in preparation for the D/s Social later in the evening. Try out your pastry skills and create works of art for others to enjoy!
D/s Social and Meet & Greet, 10PM
Spend the evening getting to know Kevin, katie, and other Power Exchange Intensive attendees at our D/s Social! During this meet and greet, you'll get an opportunity to share with and learn from others who are also interested in power exchange relationships. We will have an organized cookie and tea service for those who wish to participate.
Saturday Events:
Doors Open, 10AM
Check-in and get settled for the day's classes!
Why Do Power Exchange: A Psychologist's Perspective, 10:30AM
Kevin is a retired psychologist who spent many years providing relationship counseling to couples facing problems. Along with katie, they have moderated Power Exchange discussion groups and provided individual support to people working to make their relationship great. Now, they are offering a summary of those experiences.
Why should you consider entering into a Power Exchange relationship, even if you haven't considered it before? What core elements from a Power Exchange dynamic might help avoid the challenges often faced in a vanilla relationship? Does functioning within a Power Exchange dynamic change the way couples face common obstacles? How does a Power Exchange relationship change the way couples approach Entropy and Growth?
Executive Power Exchange, 12PM
During this discussion, we will focus on how and why we came to this cooperative model of Power Exchange. Using a business model of CEO and COO, we created a very functional and adaptable style of Power Exchange that has lasted over 15 years. We will share how to make maximum use of brilliant, powerful followers and how to be a Leader in the company which is your relationship.
Lunch @ GD2, 1:30PM
Lunch is on us today! We'll have a buffet for you to peruse and about an hour for you to relax and get to know your fellow power exchange enthusiasts!
Power Exchange Scenes: How to Add Energy and Intensity, 2:30PM
This workshop is about the Power Exchange elements that can be nurtured and highlighted during your regular "play" sessions.
Kevin and katie help you tune-in to the Power Exchange opportunities and learn to enhance the connection within your own play style. Those just beginning to add Power Exchange to their scenes will get great "starter" ideas. There will also be techniques that are more complex and can take years to build. This is a workshop with many opportunities to do hands on practice with a partner, but those without a partner are encouraged to also attend and participate.
Dinner Break, 5PM
Dinner is on your own this evening. There are many great restaurants near GD2! Fuel up for our play party later that night.
D/s Play Party, 8PM – 3AM
Power. Control. Submission. Utter Devoation. Join us for a play party geared towards all things D/s, where dressy attire is encouraged. Show us your use of slave positions. Give us a glimpse of you like to serve or be served. Let us hear you give commands and see you take direction! At 10PM we will have an obstacle course competition, where you can lead a blindfolded partner through a series of obstacles using nothing but your words. At 11, join us to celebrate the evening with a human dessert buffet.